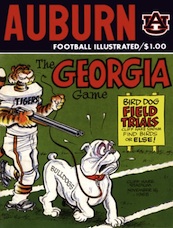 WAR EAGLE EVERYONE!!!
With Auburn's big home coming win, we are now 7-3 and eligible for a bowl game!!! Woo Hoo!!!
Please come and join the Seattle Auburn Club, this weekend, as we join the University of Georgia's Alumni club to watch the Auburn Tigers vs UGA Bulldogs. It will be a fun and friendly game watch as we go over to UGA's home game watch location, the Frontier Room.
2203 1st Ave
Seattle, WA 98121-1614
(206) 956-7427
http://www.frontierroom.com/
Game time is 4PM PST kickoff.
The Frontier Room now has surround sound and they will be offering us: $5 Beam, $1 Ribs, and $.50 wings
BIG NOTE: Kids ARE allowed in the booth/ table area, but NOT in the bar with high tables area.

Also this Saturday will be our first annual Fall Food Drive, so remember to bring in some non-perishable food!!!
This will also be UGA's Dawgs Feeding Dogs campaign where they donate dollars to Bulldog Haven NW. Please bring in some food and some donations to support both causes!!!
Finally, UGA is expecting around 20+ people, let's all come and cheer for our Auburn Tigers and out number the Georgia Dawgs !!!! 🙂
It will be a fun and exciting day!!!
If there are any questions, please let me know. Thanks!!
Min-Hsao Chen, Seattle Auburn Club President