Wonderful news everyone!!!
We've got approval from the Auburn SGA to use their Food Drive design on our club food drive t-shirts!!!
So this is what it looks like!!!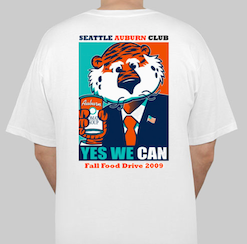 The front will have our club logo!!!
… Polls for the club logos will open tomorrow!!!
We are taking pre orders for the t-shirts … some shirts will be available for sale at the Auburn vs LSU game!!!
— UPDATE: 10-16-2009: we may not be able to make the T-Shirts for the LSU Game but the Ole Miss Game … yes!!!…
Email minhsao+sac@gmail.com with your pre-order number and size. the price is yet to be determined. We are still looking for the most cost effective printer.
All earning from the Shirts will support the club funding, and if the shirt sale is excellent, we will also contribute to the Beat Bama Food drive.