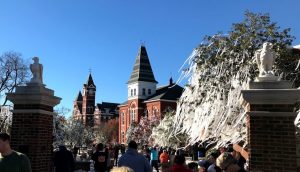 WAR EAGLE EVERYONE!!!
I have a wonderful surprise for EVERYONE!!! The Seattle Auburn Club and the Auburn Alumni Association is giving away a weekend trip to Auburn NEXT WEEK for the Tennesse Game for one lucky couple!!!!!
This is an all-inclusive trip with Flight ticket, Hotel, Food, and of course Game Tickets to the Auburn Tennessee game next week.
Arrival Friday evening, departure Sunday based on flight availability
THIS IS NOT A JOKE!
So what's the catch?  (Preferred Qualifications)
One of the couples must be an Auburn graduate or current parents of an Auburn student
A couple with a story of why they would be the perfect Seattle Auburn Family to return home 
Must provide Full License name / date of birth/ email/ contact
Must be willing to allow the Auburn Alumni Association, Delta Airlines, and FOX sports to share and document the experience/story on social media
If you are interested, please email send us a private message ASAP, or email us at
We will make a selection on Monday (10/08/2018)
WAR EAGLE!!!