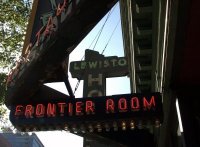 Join alumni from a variety of Southern Universities for a happy hour at the Frontier Room February 10th. The Frontier Room will also have a live bluegrass band playing at 8:30 so stop in early for a drink or stick around for the music!
If we get enough people to rsvp, they plan on extending their happy hour specials for our group until 8pm so feel free to bring a friend or two.
See you there!
Also take a look at the Facebook Page for additional details. See you there and WAR EAGLE!!!
http://www.facebook.com/event.php?eid=239154997133&ref=mf