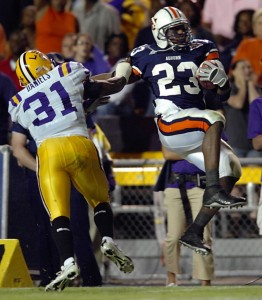 WAR EAGLE EVERYONE and welcome to the TOP 5!!
Come Join the Seattle Auburn Club and support our Auburn Tigers as we play against LSU–the battle of the unbeaten in the SEC West!!  This is a HUGE game–A #4 ranking, leading Heisman candidate, undefeated, game with SEC AND national championship implications!!  Come out support our Auburn Tigers!
Yep, we will be watching football game at the Buckley's BELLTOWN Restaurant at
2331 2nd Avenue
Downtown Seattle!!!
They'll be plenty of room & as usual kids, families & friends are WELCOME!!
The Kick Off is at 12:30 PT/2:30 CT on 10/23/2010!!!
Also since Buckley's has provided some scheduling challenges for us this season–they want to say THANKS for our continued support of their Pub with  a few appetizers & they've also given us a gift certificate that we'll use to buy some pitchers of adult beverages!
Come on out!  Great Football! Great People!  And Snacks & Beer!  What more could you ask for on a Saturday afternoon in October!?!?